On September 17th, with the order of Mr. Qi Jian, Vice President of Sanyi Group and General Manager of Sanyi Crane Company, SAC12000, Asia's first 1,000-ton all-terrain crane, which was installed on eight large trucks, was smashed. Under the guise of fireworks, the Sanyi Crane Industrial Park was slowly driven out. It went to Shanxi and was officially put into use.

Asia's first 1000-ton all-terrain crane SAC12000 is the largest tonnage all-terrain crane independently developed in China. After three years of meticulous research and development by the Sany Crane R&D team, SAC12000 was officially rolled off in March 2010 at Changsha Sany Crane New Industrial Park. Its maximum rated lifting capacity is 1,200 tons, and lifting performance and lifting height are the first in the industry. In terms of technological innovation, SAC12000 has broken through the technical barriers of large-scale tonnage and all-terrain cranes such as the large-scale high-strength boom folding and splicing technology and single-cylinder latching technology, filling a number of domestic gaps and completely breaking the large tonnage of European and American crane manufacturers on China. The technology and market monopoly of the crane industry have changed the market structure of global wheeled cranes.

In July 2010, when Premier Wen Jiabao of the State Council visited the Sanyi Crane, he was pleased to unveil the opening ceremony for SAC12000 and spoke highly of the scientific and technological innovation achieved by Sany. During the Shanghai BMW Exhibition in 2010, SAC12000 competed with the world's top crane manufacturers on the same stage, attracting the attention of industry experts and customers from around the world, and showing the world the charm of "Creation in China". In July this year, under the witness of CCTV, SAC12000 successfully completed the ultimate suspension of the limit conditions of the all-terrain crane hanging in the industry; Sany thus became the first in the world's wheeled crane industry, and it was the first to exceed a size of over 1,000 tons. Tonnage limit hanging manufacturer.

After being subjected to the layered tests under simulated conditions and even under extreme load, Sany Crane SAC12000 was officially delivered to Shanxi customer Datong Yunfeng Heavy Lifting Transport Co., Ltd., and will go directly to the wind power lifting site for lifting operations.


Are you seeking a quilified aluminium casting component for Lighting? Come to XINYU MOULD for an impressive company tour.Hundreds of all kinds of aluminium component used for past conventional lighting and as well as current fashionable LED lighting have been designed and manufactured in XINYU MOULD, besides our riched exprience,we have been using Magma mold flow software to simulate air entrapment, filling ,solidification,observe heat spots,and optimize gate,overflow and cooling system, what's a good die for alum. die casting lighting component? XINYU COMMENTS: 1.die reliability,means the least downtime caused by die,2.high productivity and low rejective rate supporting by nice die design and craftwork. we've been building alum. die casting dies for some leading lighting companies,like OSRAM,PHILIPS,ACUITY,GE. what do you hesitate for? XINYU MOULD,the ideal die casting dies solution provider helping you with your excellent alum.die casting lighting components,like lighting housing, fixtures-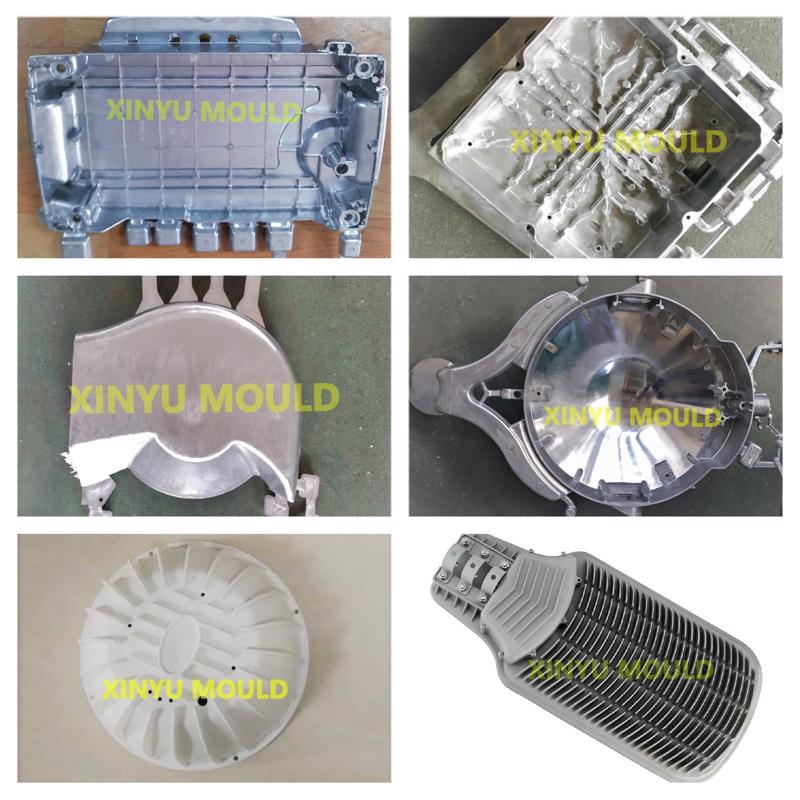 LED Lighting
A LED lamp or LED light bulb is an electric light for use in light fixtures that produces light using light-emitting diode (LED). LED lamps have a lifespan and electrical efficiency which are several times greater than incandescent lamps, and are significantly more efficient than most fluorescent lamps, with some chips able to emit more than 300 lumens per watt (as claimed by Cree and some other LED manufacturers).The LED lamp market is projected to grow by more than twelve-fold over the next decade, from $2 billion in the beginning of 2014 to $25 billion in 2023, a compound annual growth rate (CAGR) of 25%. As of 2016, LEDs use only about 10% of the energy an incandescent lamp requires
An assortment of LED lamps commercially available as of 2010 as replacements for screw-in bulbs, including floodlight fixtures (left), reading light (center), household lamps (center right and bottom), and low-power accent light (right) applications.
Mould Capabilities
1.Year Of Establishment:2002
2.Location:2 (One Is Brand New)
3.Land Area:3600sqm
4.Emplyees:120
5. Equipment;CNC:18 (Makino, Toshiba, Liyang ), WEDM:10, EDM:9, Spotting Machine:2, CMM:2, Gun Drill Machine:2, Die Casting Machine:7, Others:50
Xinyu Mould Technical Profile
1. Engineers In 2d&3d: 16
2. Engineers In Cnc Programming:6
3.File Format For 2d: Dwg&Dxf
4.File Format For 3d:Iges&Step
5.Software For 2d:CAD
6.Software For 3d:Simens NX & Pro-E
7.Software For Programming: Powermill
8.Software For Mould Flow: Magma
Xinyu Mould Process Control
1.MES Process Control System
2.IATF 16949 Quality System
3.Well-Trained Operators
4.CMM Inspection
1. CAE Support Magma(Lid 18175001)
2.Rich Experience In Casting Dies For Auto Structual Parts,Powertrain;Oil Pan;Redirector; AC Compressor
3.Trial Run Machines Available In House From 160t To 1600t
4.Vaccum Venting System Application In Dies
5. Partial Squeeze Skill In Dies
6.High Precision Imported CNC(5 Axis)
7.Globalized Hr Concept
1.Max Die Size:2500*2500*1800
2.Max Die Tonnage:2500t
3.Biggest Die Casting Machine:1600t
4.Most Complex Die: 11slides
5.Yearly Capacity:350sets
1.Main Market:Na;Europe;Asia
2.Main Field: Auto;Telecommunication;
Lighting;General Machinery;Power Tool
Furniture
3.Partner Offering After Sales Service:
Available In India&Us,Europe
4.Business Involved:
Aluminum Die Casting Dies
Aluminum Die Casting Components
Xinyu Mould Commercial Terms&Conditions
1. Fob Ningbo/Shanghai
2.Payment Term:Tt
3.For Dies:50% Down Payment 50% Prior To Delivery
4. For Castings: 10% Down Payment
The Rest Within 30days After b/l Date
5.Leadtime For Quotation:2days
6.Feedback For Customers' Query:24hours
Aluminium Castings For Lightings
Aluminium Castings For Lightings,Cast Aluminium Base For Lighting,Aluminum Die Casting for Lighting,Custom Aluminium Castings For Lightings
Ningbo Beilun XinYu Mould Manufacturing Co.Ltd. , http://www.xinyudiecasting.com